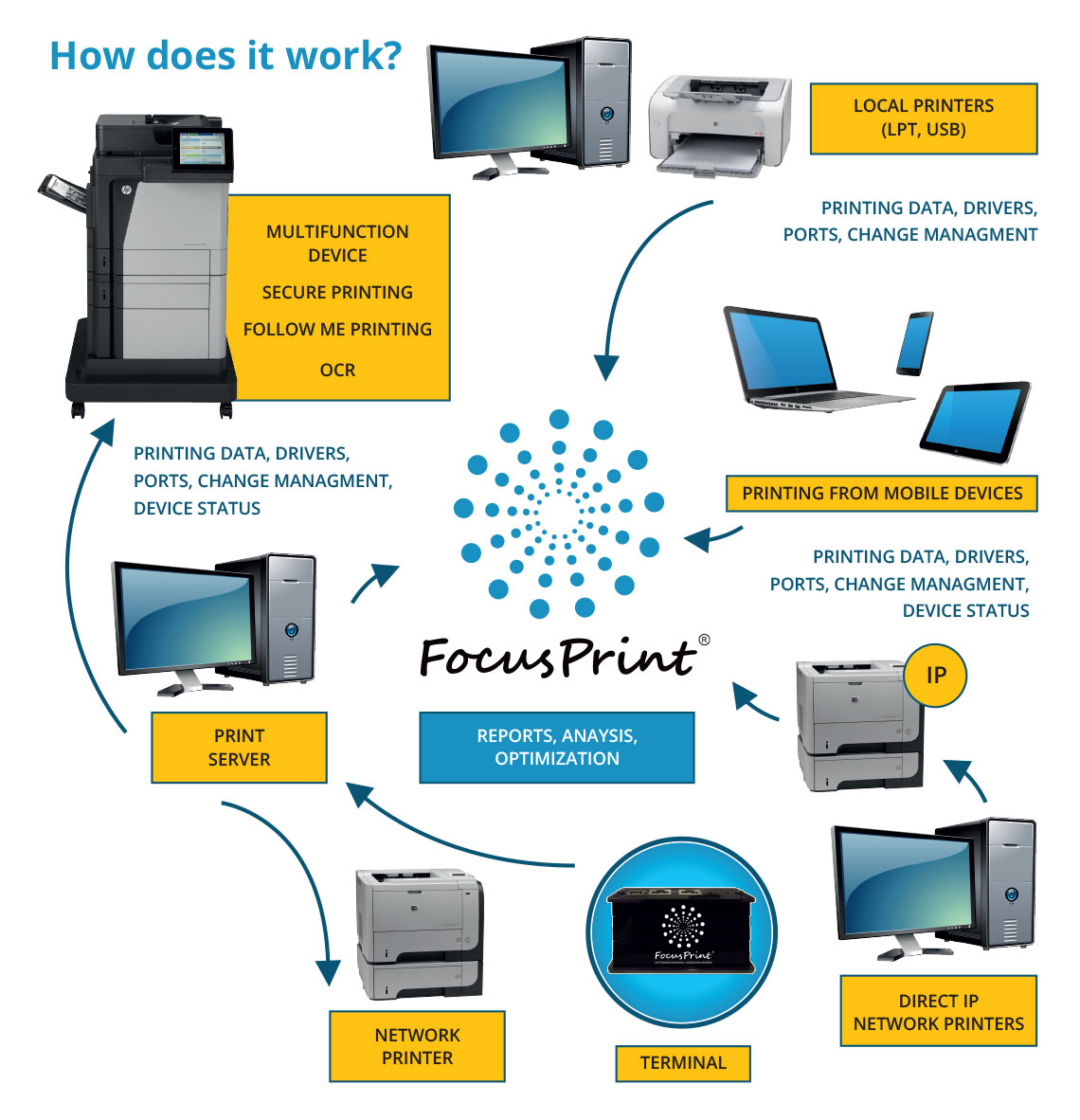 Focus Print® is the integrated printing management system providing:
permissions and access control to printing devices
management and control of printouts based on defined rules
monitoring and control of supplies usage, consumption and billing
supplies stock and distribution management and control
billing and cost management by categories, groups, departments etc.
Thanks to the integration with supportive devices of well-known manufacturers, it is possible to authorize the access to the devices using access cards, PINs, users and passwords as well as data acquisition about actions and scanning services.
For devices with the service of a built-in application, Focus Print® provides dedicated panels that enable to: show a print list, modify parameters, serve preferred prints, add access cards by users, generate new PIN numbers.
Focus Print® was designed and build with the use of the newest IT technologies. Both administrator's console and printing management panel for users are served by any web browser.
The system supports multilingual service. At the moment, besides Polish and English language, there is a possibility to prepare any language.
System Focus Print® ensures:
Monitoring of all printing, copying and scanning activities – it counts users, group of users, departments. It counts the printouts both for network and local printers
Reporting with creator and scheduler – wide range of predefined reports as well as friendly interface of creator and scheduler to define and run own reports in self-defined cycle
Optimization and auditing – visual toolsets for physical device location management and analysis of printing environment. Allows to simulate changes and moves of devices (by location, room, floor) to make environment optimally utilized and economically efficient
Printing management – security and access control, permissions for users and groups including "confidential printing" and "follow me printing"
Device management, monitoring and service support – monitoring of devices' condition, alerts, level of supplies, automated actions including service desk ticketing for incidents or requests for supplies
Visualization of devices spacing in a particular localization – it enables to manage devices automatically (printers, multifunction devices) in an architectural structure together with visualization of localization